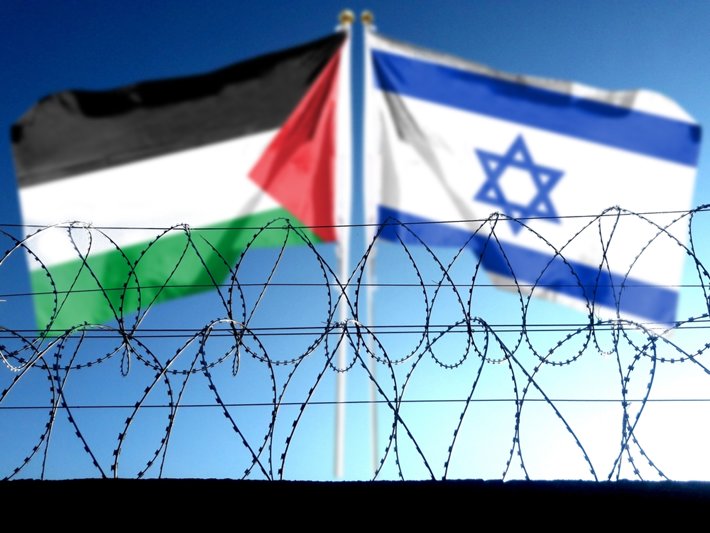 In the weeks since conflict ignited in the Middle East on October 7, the Anti-Defamation League (ADL) has reported a quadruple increase in antisemitic incidents across the U.S. compared to the same time period last year.
Similarly, the Council on American-Islamic Relations (CAIR)reported 774 anti-Muslim incidents in the 2.5 weeks following October 7—over 12 times the incidents reported in a previous full month.
ADL reported 109 rallies since October 7 which contained "explicit or strong implicit support for Hamas and/or violence against Jews in Israel."
Antisemitic incidents included a Jewish woman being punched in the face at Grand Central Terminal by an individual who said it was because "You are Jewish." In Los Angeles, a person shouted, "I am Hamas!" and threatened death to a group of Jews outside a Kosher restaurant.
Anti-Muslim incidents included thestabbing death of a 6-year-old Palestinian-American boy by a Chicago-area landlord who also allegedly seriously wounded the boy's mother. Law enforcement concluded the victims were "targeted by the suspect due to them being Muslim and the ongoing Middle Eastern conflict involving Hamas and the Israelis." In Michigan, charges were brought against a man for allegedly urging people to help him hunt Palestinians.
Corey Saylor, CAIR's Research and Advocacy Director, urged public officials to do everything in their power to stem the rising tide of hatred.
ADL CEO Jonathan Greenblatt said, "It is incumbent on all leaders, from political leaders to CEOs to university presidents, to forcefully and unequivocally condemn antisemitism and terrorism. This isn't hard."
The sharp spike in bigoted rhetoric and activity against Jews and Muslims has hitAmerica's campuses especially hard. At Cornell University a student message board bore the posts: "If I see another pig baby jew I will behead you in front of your parents," and a threat to "bring an assault rifle to campus and shoot all you pig jews."
There have likewise been multiple reports of harassment and bullying of Muslim students. At American University in Washington, D.C., a Palestinian employee found a death threat in his office: "Go back where you came from. You might get lucky with a missile and meet your Allah sooner! Death to all Palestinians!"
"Students have the right to visibly practice their faith and peacefully advocate for human rights without facing harassment, threats or punishment," Saylor said. "We encourage K-12 schools, colleges and universities to address this sudden surge in reports of abusive and discriminatory behavior and express support for students of all backgrounds, including Muslims and Palestinians. We encourage students impacted to report any incidents of abuse and seek assistance. We are here to help."
At a recentADL webinar, "Fighting Hate From Home—Taking Action Against Campus Antisemitism," Columbia University professor Shai Davidai, who is Jewish, said, "I'm scared. I'm scared for the students experiencing antisemitism maybe for the first time in their life. I'm scared for the Israeli students that have joined our school maybe 2 months ago who are finding it more dangerous in NYC than in Israel. I realized I could go into an elevator with people who see my kids' lives as expendable. Many of my colleagues are amazing people but they're remaining silent for fear of offending people. It doesn't feel like 2023. It feels like 1933. I don't want to wait for a student to be killed for everyone to condemn it."
When asked during the webinar what can be done about the threat on America's campuses, Jonathan Greenblatt at first responded with what ADL has been doing. "We've been tracking the threats, monitoring the extremists, and trying to save lives," he said. He then added, "What can you do? If you're a donor, close your checkbook. If you're a voter, don't vote right or left, but right versus wrong. Give money. Don't give it to us. Give to the organizations in Israel that are saving Israeli-Jewish lives and Israeli-Arab lives. Give to them, God bless them."
Answering a webinar attendee's question, "Where's the bright light? What can we do for hope?" Greenblatt answered, "This country has been the greatest gift to the Jewish people in the past 2,000 years, and the greatest democracy in the history of the world, so if there's any country that can figure this out, it's this one. But none of this will happen unless we fight for what we have. We need to roll up our sleeves and get to work."
_______________
From its beginnings, the Church of Scientology has recognized that freedom of religion is a fundamental human right. In a world where conflicts are often traceable to intolerance of others' religious beliefs and practices, the Church has, for more than 50 years, made the preservation of religious liberty an overriding concern.
The Church publishes this blog to help create a better understanding of the freedom of religion and belief and provide news on religious freedom and issues affecting this freedom around the world.
The Founder of the Scientology religion is L. Ron Hubbard and Mr. David Miscavige is the religion's ecclesiastical leader.
For more information, visit the Scientology website or Scientology Network.