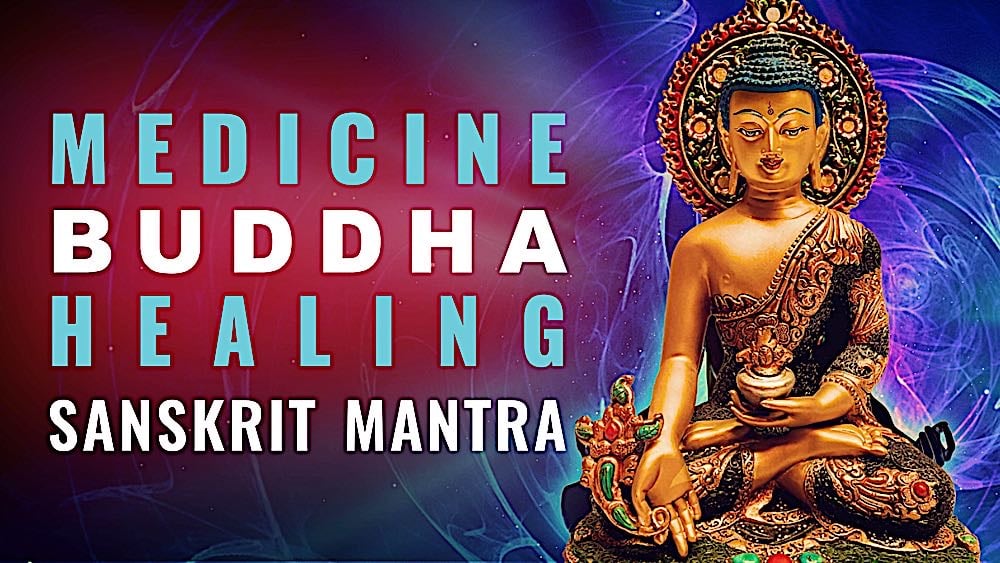 In times of pain, sickness or stress do many Mahayana Buddhists turn to meditation and the mantras of Bhaishajya Guru, Lapis Lazuli Light Medicine Buddha. Chanted in Sanskrit is particularly effective. In Sanskrit, his mantra is:
Oṃ bhaiṣajye bhaiṣajye mahābhaiṣajya samudgate svāhā
Video:
Ideally, chant 27 times (as in this video) or 108 times (play 4 times) for healing and pain relief — although always consult your caregivers for any health issues!
Why is Medicine Buddha meditation and his mantra so incredibly powerful? As a Sutra teaching, they arise from the words of the Buddha.
In the Sutra, Bhaishajya Guru, Lapis Lazuli Light Medicine Buddha, made 12 vows. The most important was the vow on healing the sick.
"I vow that all beings who are physically sick in all aspects be blessed with good health, both physically and mentally. All who pay homage to Buddha faithfully will be blessed."
Because of this vow, in Mahayana Buddhism, simply calling his name, praising him, or chanting his mantra are considered powerful healing practices.
The Medicine Buddha long Dharani from the Medicine Buddha Sutra is famous for its healing benefits as a meditation and mantra chant. To chant the longer 54 syllable Dharani, please see our popular chant and video on Youtube>>
The longer 54-syllable Dharani of the Lapis Lazuli Healing Buddha, chanted at least seven times has been recommended by Buddhist teachers for healing. The Dharani is chanted here in original Sanskrit (not translated to Tibetan or English) — in the sacred vowels of the Mother Language. The Dharani (transliterated and in Devangari) is Namo bhagavate bhaiṣajyaguru vaiḍūryaprabharājāya tathāgatāya arhate samyaksambuddhāya tadyathā oṃ bhaiṣajye bhaiṣajye mahābhaiṣajya samudgate svāhā नमो भगवते भैषज्यगुरु वैडूर्यप्रभराजाय तथागताय अर्हते सम्यक्सम्बुद्धाय तद्यथा ओं भैषज्ये भैषज्ये महाभैषज्यसमुद्गते स्वाहा
Don't miss our other Medicine Buddha content