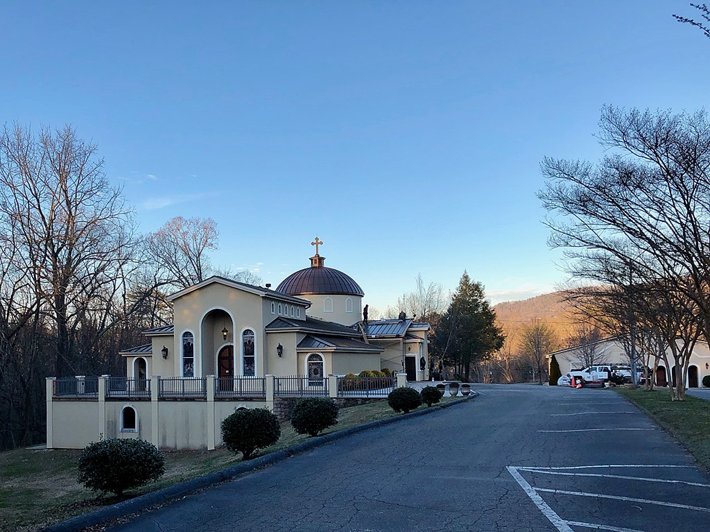 A Greek Orthodox Church in Asheville, North Carolina, celebrated its hundredth year in the scenic Blue Ridge Mountains this May, a major milestone in the history of the Greek Orthodox community in Southern Appalachia.
Holy Trinity Greek Orthodox Church celebrated its centennial with a "Cheers to 100 Years" gala.
The church was founded by Greek immigrants who arrived in Asheville in 1922, the same year the Greek Orthodox Archdiocese of North and South America was established.
Many Orthodox Christians who emigrated from Greece chose to settle in mountainous areas of the U.S. rather than in coastal regions, according to the Greek Orthodox Archdiocese of America. And for those who prefer such locations, there is no better place than Asheville, a mountain-ringed city 30 miles east of Mount Mitchell, the highest peak east of the Mississippi.
Asheville is also a vibrant center of religious diversity, where Jewish and Islamic congregations and Orthodox Christian churches thrive side by side with a variety of non-Western and new-age faiths.
Besides new immigrants, the Holy Trinity Church membership includes first- and second-generation Greek Americans, converts, and Orthodox Christians of Jordanian and Ukrainian ancestry. Most of the Sunday Divine Liturgy is in English.
Church members, celebrating a century of community and fellowship, are proud to be the oldest Greek Orthodox community in North Carolina.
"We've come a long way," member Margaret Bruggeman told the local ABC News affiliate. "We've made our footprint in Asheville," and she hopes to "continue to grow on that, and to be here for the next hundred years and hundreds more. It's just really warming and heartfelt to know that we have such a generous community who can reach out and be a part of that growth for years to come."
The congregation is comprised of members from all walks of life. "There are a lot of restaurants that parishioners own," says Father Michael Diavatis, the church's pastor since 2012, and many are employed in hospitals and other areas of healthcare.
Every year in September, the church hosts an annual Greek Festival in Asheville. This years Greek festival is scheduled for September 23-24 and all are welcome.
A more complete timeline of the history of this unique Greek Orthodox community is located on the website of the Greek Orthodox Archdiocese of America.
_______________
From its beginnings, the Church of Scientology has recognized that freedom of religion is a fundamental human right. In a world where conflicts are often traceable to intolerance of others' religious beliefs and practices, the Church has, for more than 50 years, made the preservation of religious liberty an overriding concern.
The Church publishes this blog to help create a better understanding of the freedom of religion and belief and provide news on religious freedom and issues affecting this freedom around the world.
The Founder of the Scientology religion is L. Ron Hubbard and Mr. David Miscavige is the religion's ecclesiastical leader.
For more information visit the Scientology website or Scientology Network.