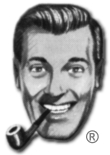 Listen, my children, and you shall hear
SubGenius broadcasts from "old Wisteer',"
In July summer, "2015."
Nary a Pink was on the scene
When these words were spoken, at the camp canteen.
— Dr. Hal
Total nerd-out. Old nostalgic monster fans will love this one. Special Bonus: scroll to the bottom of this page for the entire first issue of KONA MONARCH OF MONSTER ISLE:
http://pappysgoldenage.blogspot.com/2014/03/number-1550-monarch-of-monster-isle.html
We're still hard at work organizing and editing the recordings of ranters and bands, but those will be forthcoming in good time.