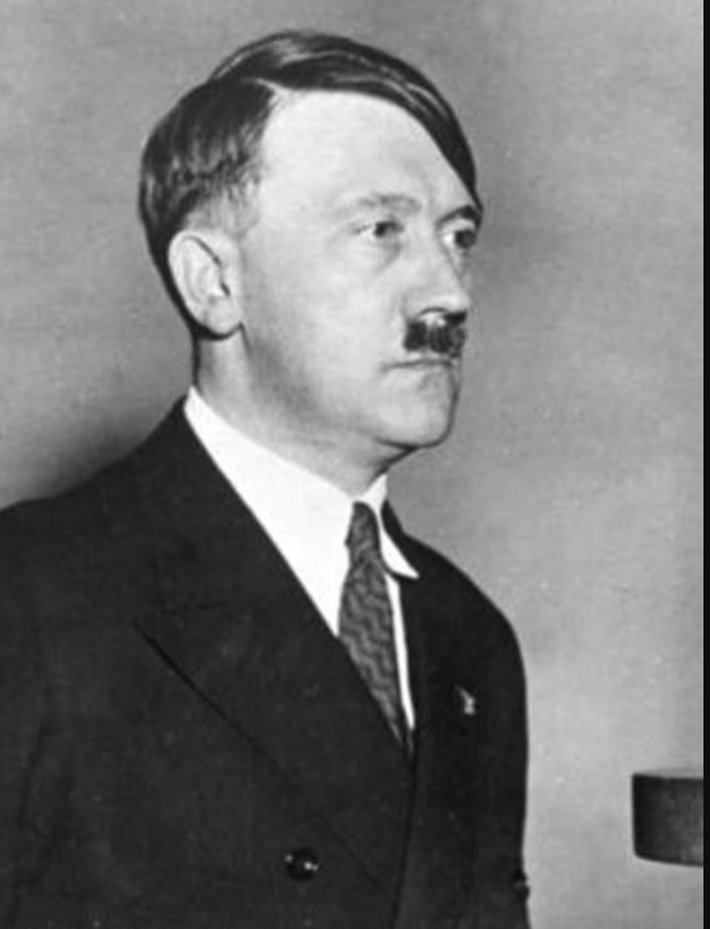 As a young aspiring artist, Hitler had a problem doing people. His landscapes and buildings were fine, he couldn't get people right. Some deficiency, some hole in his skills or focus defeated any attempt to represent actual human beings on canvas. His people look hollow, unreal, lacking dimension and feeling—even blurred. It was as though, to Hitler, men, women and children were a mere inconvenience to the larger picture—things he could simply brush off.
This and other insights about the leader of the Third Reich are revealed in National Geographic's compelling six-part series, Hitler: The Lost Tapes Of The Third Reich.
In the 1970s, historian John Toland interviewed intimate associates, colleagues, former classmates and friends of Adolf Hitler. The tapes of those conversations, stored in the Library of Congress, thread through the documentary as it chronicles Hitler's rise from obscurity through his calamitous havoc-filled reign to his suicide in a Berlin bunker. Surviving classmates, early Nazi party members, and even his private secretary, who was with him in his last hours, all afford never-before-seen glimpses of the evolution of a nobody into the most reviled monster in history.
By all accounts, Hitler was a loser at everything he attempted. Rejected twice for incompetence by the art school he so desperately wanted entrance to (how history might have changed had Hitler been encouraged to pursue art instead of politics), his World War I service was likewise lackluster. Never seeing combat and in an environment—the German army—where simply surviving four years of war meant automatic status as an officer, he never rose beyond the equivalent of private first class, always in the background or back row.
After the war, however, he discovered the one thing he excelled at—anger.
His outburst at a speaker at a far-right meeting attracted the interest of an official of the party. Soon, Hitler was a local celebrity, channeling the frustration of the German people over losing the war and the ensuing humiliation of the Treaty of Versailles.
Time after time, chance played a hand in the future Führer's career path. He was about to shoot himself after the Beer Hall Putsch—the failed insurrection against the German government—when the wife of a Nazi party leader—also interviewed on the tapes—stayed his hand, saving his life. Found guilty of treason he was given the shockingly light sentence of five years, rather than death. He served only several months of that sentence, enough time to write Mein Kampf (literally "My Struggle"), a crystallization of his plans to expand Germany to the East by wiping out the "savage races," particularly the Jews, just as America expanded to the West by wiping out the Native Americans. (The American Indian reservation system and Jim Crow laws were Hitler's inspiration for concentration camps and repressive measures against the Jews.)
But Hitler's biggest "break" was the Great Depression, which hurt Germany harder than any other industrialized nation. Skyrocketing unemployment, hopelessness and riots in the streets all combined to make an angry man spewing hatred and blame on innocents appealing, even enthralling.
Home movies, little-known anecdotes, and even a baby picture, give us a deeper understanding of the man's banality, lack of empathy, and pathological insecurity.
This documentary does not make for pleasant viewing, but it is enlightening.
There is no question that Hitler gave us fair warning of his plans, and there is no question that individuals and groups active and about in the world today are likewise giving us fair warning.
The message of Hitler: The Lost Tapes Of The Third Reich is that all Hitler needed was a chance, and he got it. Will we give today's Hitlers a chance as well?
_______________
From its beginnings, the Church of Scientology has recognized that freedom of religion is a fundamental human right. In a world where conflicts are often traceable to intolerance of others' religious beliefs and practices, the Church has, for more than 50 years, made the preservation of religious liberty an overriding concern.
The Church publishes this blog to help create a better understanding of the freedom of religion and belief and provide news on religious freedom and issues affecting this freedom around the world.
The Founder of the Scientology religion is L. Ron Hubbard and Mr. David Miscavige is the religion's ecclesiastical leader.
For more information visit the Scientology website or Scientology Network.