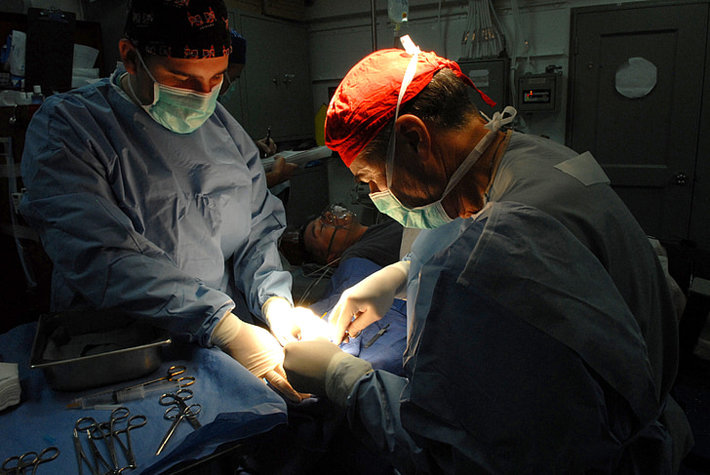 A new law in Oregon backed by a medical institution and a Native American tribe permits healthcare establishments within the state to give back amputated body parts to patients on cultural, spiritual or religious grounds.
The legislation, Senate Bill 189, was approved in July and is set to become active on September 24. It garnered backing from St. Charles Health System, a nonprofit entity that serves as the primary healthcare provider in Central Oregon, and from the leadership of the Confederated Tribes of Warm Springs.
Maintaining a person's bodily integrity is deemed essential by certain tribal members to facilitate a seamless journey into the realm of the spirit.
"In our spirituality, one of our sayings is 'one body, one mind,'" the Associated Press quoted Wilson Wewa, spiritual leader and oral historian of the Confederated Tribes of Warm Springs, as saying in an August 23 article.
"When there's amputation," he emphasized, "most of our tribal members know that we need to be whole at the time of our leaving this world to the next."
Under previous state legislation, the process of giving back body parts was fraught with challenges or even rendered unfeasible. At St. Charles, the option existed to bestow blessings upon and subsequently cremate body parts, ensuring that the resulting ashes could be returned to the patient.
However, Wewa pointed out that for certain patients, relying solely on cremated remains was not acceptable, causing them to decline potentially life-saving procedures.
As a result, some tribe members regrettably lost their lives, Wewa explained. The aftermath of such decisions, he added, leaves a lasting trauma not just for the deceased's family but the entire community.
According to Shilo Tippett, a member of the Warm Springs tribe and the manager responsible for caregiver inclusion and experience at St. Charles, the healthcare system engaged in discussions with almost 80 tribal members in 2022. The goal was to gather their perspectives on the necessary revisions to state law, she explained.
The collective impression St. Charles received from community members was that they strongly believe in the return of amputated body parts, Tippett said. That, she added, aligns with historical practices prior to Oregon law, reflecting the tribe's cherished traditions and customs.
Tippett pointed out that the significance of the new law extends not only to tribal members but also encompasses surgeons, laboratory personnel and other healthcare providers within the St. Charles system.
"They have not felt that it's right, morally, that they haven't been able to return an amputated body part to someone who holds such a significant spiritual belief," Tippett said. There's a lot of celebration and excitement that finally something that has been important to so many people is achievable."
_______________
From its beginnings, the Church of Scientology has recognized that freedom of religion is a fundamental human right. In a world where conflicts are often traceable to intolerance of others' religious beliefs and practices, the Church has, for more than 50 years, made the preservation of religious liberty an overriding concern.
The Church publishes this blog to help create a better understanding of the freedom of religion and belief and provide news on religious freedom and issues affecting this freedom around the world.
The Founder of the Scientology religion is L. Ron Hubbard and Mr. David Miscavige is the religion's ecclesiastical leader.
For more information, visit the Scientology website or Scientology Network.