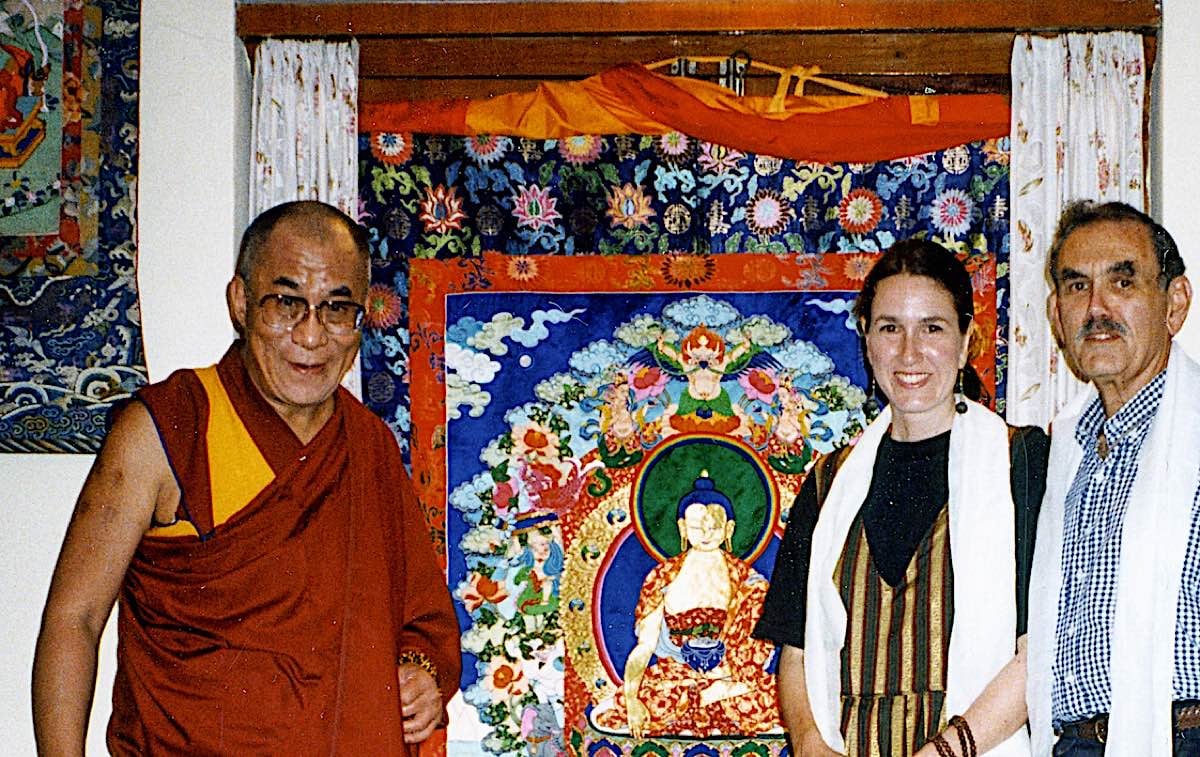 "
Threads of Awakening
reveals the intricacies and richness of the appliqué tradition. I am sure it will enhance appreciation for our unique artistic traditions."
—His Holiness the Dalai Lama
". . . the narrative threads . . . weave together in a sensitive work that considers Rinchen-Wongmo's difficulties navigating Tibetan culture in her quest to learn a new art. . . . Along the way, it effectively delves into the Buddhist thought that she incorporated into her worldview."
—
Kirkus Reviews
"Readers interested in Tibetan culture and Buddhist spiritual practices will find this book of interest."
—
Library Journal
"Deeply personal, learned, and genuine, this is a beautiful memoir of spiritual self-discovery."
—Susan Piver,
New York Times
best-selling author of
The Four Noble Truths of Love: Buddhist Wisdom for Modern Relationships
"At first glance, it seemed as if this book might be yet another travelogue, with adventures into India and a dip into Buddhist culture. How wrong I was. It is a deeply moving story of how one woman's decision to help the Tibetan refugees in India led to a lifetime's work of creation in one of the finest and rarest art traditions. . . . An absolute delight to read."
—Reedsy Discovery
"Threads of Awakening is an illuminating window into the world of pieced brocade thangkas. Leslie Rinchen-Wongmo is, to my knowledge, the first American woman to master this exquisite artistic tradition, and also the first to write extensively on it. We are fortunate to reap the fruits of her endeavors!"
—Glenn H. Mullin, author of Female Buddhas and four more books on Tibetan Buddhist art
"Threads of Awakening not only fulfills a critical gap in the recorded literature and preservation of traditional Tibetan appliqué thangkas—it is also sure to enrapture, delight, and inspire you!"
—Pema Namdol Thaye, traditional Tibetan architect, artist, author, and art educator
"Part travelogue, part spiritual biography, and part artistic chronicle, Leslie Rinchen-Wongmo's Threads of Awakening is an eloquent work that is both adventure and homecoming; transformational and grounding . . . her personable and insightful presentation stimulates introspection about our own journeys, whatever they may be."
—Buddhistdoor Global
"All of us are granted the same twenty-four-hour day. But great memoirs show us how much life we can pack into every moment if our heart says yes. Leslie Rinchen-Wongmo, whose name means 'precious, empowered woman,' did just that. She came upon a group stitching sacred Tibetan tapestries in India and stayed to become the first Western woman trained to make them. Her story takes us deep into the art and culture she embraced. But just as importantly, Leslie provides a luminous lesson on what she calls 'the experience of traveling off course to a wondrous life.'"
—Barbara Cornell, Pulitzer Prize–nominated journalist and librarian
"I was genuinely moved by Leslie's courage and compassion as she pursued her dreams. Perhaps one of the most moving moments of the book is her meeting with His Holiness the Dalai Lama. Her book is a joy to read."
—Cindy Rasicot, author of Finding Venerable Mother: A Daughter's Spiritual Quest to Thailand
"Prepare yourself not just for a fascinating read but also for a profound personal awakening at the depths of your being!"
—Bill Bauman, PhD, author of Emptiness Dreaming: The Story of Creation as Seen through the Eyes of the Quantum Void
"Leslie retells her journey in prose that is as beautiful, meticulous, and captivating as the thangkas themselves."
—Meher McArthur, author of Reading Buddhist Art
"Profoundly meaningful and deeply spiritual, Threads of Awakening is a delightful and inspiring travel memoir about an ancient Tibetan Buddhist textile tradition and a woman's search for purpose."
—Isadora Leidenfrost, PhD, filmmaker of Creating Buddhas: The Making and Meaning of Fabric Thangkas
Leslie Rinchen-Wongmo is a textile artist, teacher, and author. Curiosity carried her from California to India, where she became one of few non-Tibetans to master the Buddhist art of silk appliqué thangka. Her artwork has been exhibited internationally and featured in magazines such as Spirituality & Health, FiberArts, and Fiber Art Now and in the documentary, Creating Buddhas: The Making and Meaning of Fabric Thangkas. To share the gift of Tibetan appliqué with stitchers around the globe, she created the Stitching Buddhas virtual apprentice program, an online, hands-on course that bridges East and West, traditional and contemporary. After two decades abroad, Leslie returned to her native Southern California, where she now lives with three cats and enough fabric to last several lifetimes in Oxnard, CA.