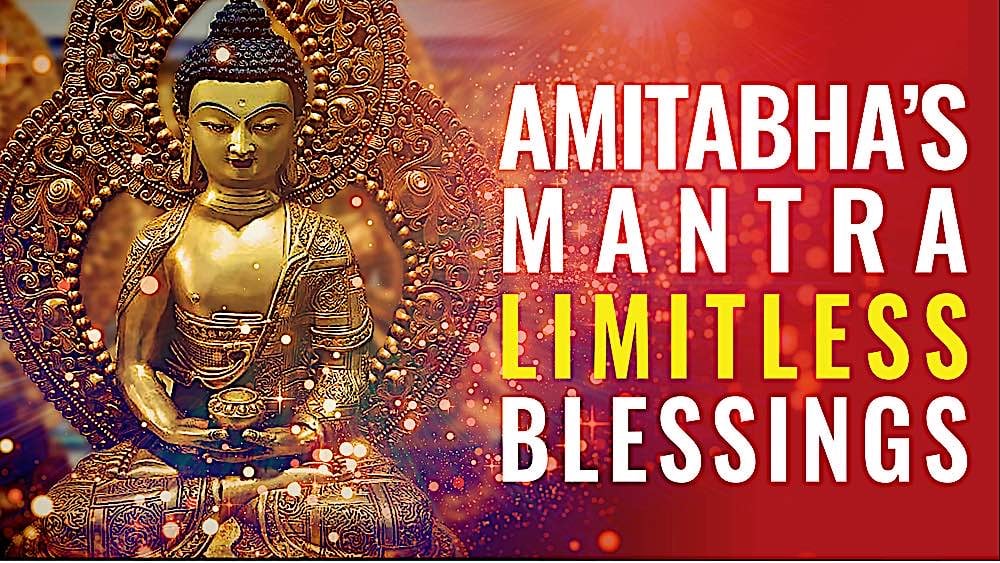 Buddha Amitabha's beautiful root mantra chanted 108 times in Sanskrit — considered a complete and virtuous practice by itself. Many people simply chant his mantra mindfully every day as a complete practice. His mantra connects us to the Buddha of Infinite Light, Amitabha.
Who is Amitabha, the Limitless?
Buddha Shakyamuni explains in the Amitabha Sutra: "…why is this Buddha called Amitabha? The light of this Buddha is infinite, and shines on all lands throughout the universe without obstruction. Thus this Buddha is called Amitabha. Also, the life span of this Buddha and his people is an infinite number of immeasurable eons, and so he is called Amitabha. Amitabha Buddha attained enlightenment ten eons ago."
Buddha also explains the benefits in the same Sutra: "If there are good men or good women who hear of Amitabha Buddha, and recite his name single mindedly and without confusion, for one day or two days or three days or four days or five days or six days or seven days, then when these people are about to die, Amitabha Buddha and all the sages who are with him will appear before them. When these people die, their minds will not fall into delusion, and they will attain rebirth in Amitabha Buddha's Land of Ultimate Bliss. I have seen this benefit, and so I speak these words. If sentient beings hear what I say, they must make a vow to be born in that land." — Shakyamuni Buddha in the Amitabha Sutra.
The mantra, Om Ami Deva Hri is the short heart mantra of Amitabha Buddha.
This is a Sutra mantra, as taught by Buddha, and is considered to bring limitless blessings and merits, including purification of negative Karmas and planting the seeds of rebirth in the glorious Pureland of Sukhavati (Western Pureland of Amitabha). Also highly recommended is the Great Dharani of Amitabha, known as Sarvatathāgatāyurvajrahṛdaya-dhāraṇī, which is chanted beautifully in our separate video on our Youtube channel>>