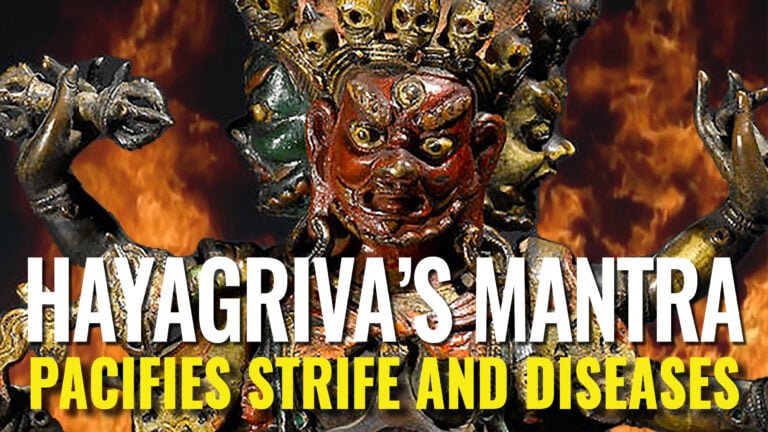 The mantra of the Heruka manifestation of Amitabha Buddha — the great and glorious Hayagriva — has been called the "King of All Protections" mantra.
Many Buddhist teachers have requested students recite Hayagriva's supreme mantra in troubled times. In The Sutra of Forming Hayagriva it is called
"The King of All Protections"
In the sutra it is written:
"Whoever, including even the insects, has heard the name and mantra of Hayagriva only one time will never again fall into the lower paths."
Chant along with us now, Hayagriva's swift and powerful mantra 108 times with beautiful visualization images in this Buddha Weekly special presentation.
Video: King of All Protections Mantra
108 Sanskrit Chanted Repetitions
CONTENTS
00:00 Introduction
02:27 Mantra chanting begins in Sanskrit 108 times with meditation images!
CHANTED (singing, music and arrangement) by Hrishikesh Sonar
King of All Protections Mantra
In the Manifestation of the Superb Victorious Wrathful Great Horse Tantra, the benefits of reciting Hayagriva's supreme mantra, is described as: "Those who merely recite the mantra frequently will be free from afflictions. Hayagriva is the king of all protections."Many great teachers continue to request their students accumulate Hayagriva Heruka's mantra — known to be particularly efficacious in these troubled times, famous for both healing of serious diseases, averting strife and war and other disasters and negativities. (See his origin story for the reasons why, in the linked video.)
Venerable Zasep Rinpoche advises: "Regarding sharing and reciting Hayagriva's mantras it is fine, as long as you don't do self generation without the empowerment." — in other words, visualize Hayagriva in front of you, not with yourself as the deity.

NOTE: This is a rare chanting of the mantra in the original Sanskrit language. Many people also practice the Tibetan version (see both below) — although this video is the most sacred and ancient Sanskrit mantra.
Bring the benefits of Hayagriva's supreme mantra into your life. Chant along now, 108 times with beautiful visualized images of the great wrathful lord of Compassion. To learn more about Hayagriva Buddha, visit the video linked in the top right of this video, or here—
— for an exciting documentary covering Hayagriva, his practice, appearance, benefits, origin story and what the teachers have to say about his important practice.
Hayagriva's practice, although a Highest Yoga Tantra practice — that strictly requires empowerment to self-generate — is openly practiced by many devotees of the Padma family (front-visualized if you don't have empowerment): compassionate people who care about the suffering of the world. It is also considered the "practice for modern" times — since Hayagriva's mandala exists tangibly in our world.
Mantra in Sanskrit and Tibetan
The mantra as chanted:
OM HRIH PADMAN TATRO VAJRA KRODHA HAYAGRIVA HULU HULU HUM PHAT.
NOTE: Phat is pronounced P-hey — the T is almost silent as this is an "aspirated" P-Hey – t
In Tibetan, this is typically pronounced (not in this video):
OM HRIH PEMA THAN DRIH BENZA TROHDHA HAYA GRI WA HOOLOO HOOLOO HUNG PEY!